For a hiker a good pair of shoes is very important. It gives you the freedom that you need to move around in nature and soak up its goodness. Without a proper foot wear will make you miss all those great opportunities. And not only that, you will feel frustrated and in pain. I know, cause it happened to me before. I hiked to the Pacific Crest trail with just an ordinary low cut boots and end up having blisters and sprained ankles. That's when I have learned my lesson.
So avoid that mishaps, what you need to do is take the time to analyze first what really need. There are many hiking shoes in the market today, and each boasts to be the best among the rest. But first consider some things before buying like its material, its heaviness, its flexibility, its ankle support and its linings will all matter to hikers especially if the terrain you are going to are a bit more treacherous.
I have gathered here some of the best hiking shoes men, I hope you can find them useful when you are about to buy one.
This is a durable, affordable and lightweight boots that is perfect for strolling through the woods. This boots has great cushioning to absorb shock and gives sufficient traction helping hikers move comfortably. It is very versatile cause you can use it anyway you want. You can even wear it at work. It has waterproof and breathable materials that is great when you want to cross a stream cause the water won't penetrate your shoes.
Merrell has always been known to have the best hiking shoes but this one just takes the cake when you are looking for a boot that is durable but is still lightweight. The Merrell All Out Blaze is perfect for long hikes and quick hikes. It has waterproof but breathable mesh uppers and leather outer materials that keeps your foot dry. It keeps it also cool perfect for hiking in a hot summer weather. The lightweight construction of this boots will keep the hiker comfortable especially those who are not fans of heavy backpacking and to keep your feet from fatigue, this great boots have E-foam midsole inserts that is soft and comfortable. The great traction that this shoe provides is enough for hikers to get going further and further in trekking.
The North face Ultra Extreme II GTX
North face company has been building climbing and outdoor equipments for about 50 years and you may consider then an expert when it comes to that area, no wonder that their boots are very well made and is cut above the rest. The Ultra Extreme is about that is built to provide hikers exactly what they need without the added bulk or weight. It is light, comfortable and is really waterproof. This shoes deliver outstanding traction because of its exclusively designed rubber outsole by Vibram IceTrek. This shoes is also waterproof Gore Tex uppers that makes it durable in all kinds of weather.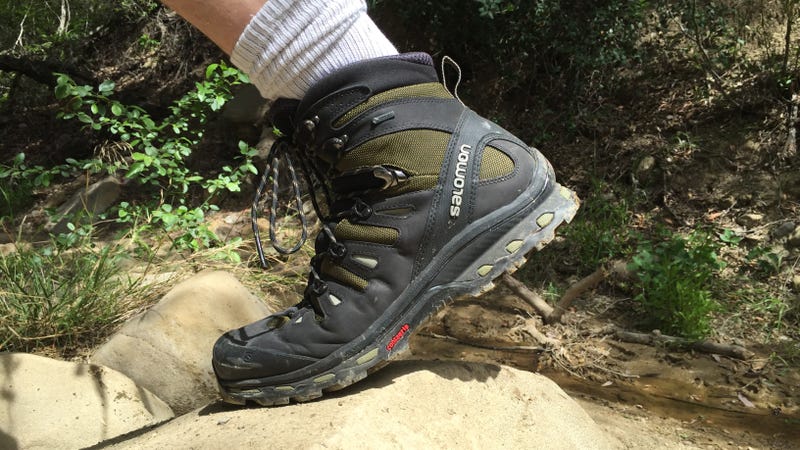 Phaserbound Waterproof Boots
This is a very comfortable boots that delivers what it promises. This boots may look old fashioned and simple but this is very tough and durable. It has full grain leather upper material that keeps it waterproof and it also has Vibram sole that give it solid support when hiking. This boots is mid high and it cushions your ankle really well and prevent debris from entering your shoes. This boots is perfect for muddy or deep trails.
La Sportiva Synthesis Surround GTX
This is considered at the winner of the editors choice for Backpacker Magazine. This is waterproof as well as breathable. It has sturdy yet light built that hikers love. This boots as so good that you can use it in all terrain. This is perfect for long hikes and even in very hot weather, your foot will stay cool and dry. It has also the capability to absorb moisture which is ideal for sensitive feet and will prevent your foot from having blisters and odor.
These are my top 5 best hikers shoes for men. All of these shoes boasts durability, functionality and comfort. I hope this will help you make the right choice when picking the right shoes for you.
About the Author
Albert Gutierrez, a seasoned rock climber and athlete. Loves the outdoor and usually takes long trips in mountainous countries in Asia.